Home -> Products -> Outside Plant Products -> Flow Transducers



Printer friendly version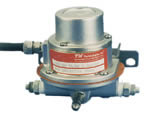 Click image
to enlarge
The Series 150 Flow Transducer has been specifically designed to automatically monitor the flow of air to pressurized communication cables.
Using the series 150 Transducer in conjunction with the TX Pressure Trak 640 or the Hercules 740 Monitoring System provides automatic flow monitoring. This provides an inexpensive and extremely effective means for leak location and prevention of excess air usage.
Low pressure drop provides maximum pressure to cables.
Unpowered operation simplifies and reduces cost of installation.
Two-wired connection for fat installation on working or non-working pairs.
Acts as in-line check valve to minimize reverse air flow... eliminating need for automatic shut-off valves.
Accuracy and reliability are maintained by isolation of electronics from direct air flow.
Available in four nominal flow ranges: 0-10 SCFH, 0-20 SCFH,0-50 SCFH and 0-100 SCFH.
The series 150 is designed for ease of installation in the Central Office for air panel monitoring, in the manhole for air pipe manifold monitoring and at pole-mounted air dryer location.
Available in special assemblies, including preassembled air pipe manifolds, flow transducer panels, and five bank housings, as well as mounting plates for modification of existing meter and pipe panels. Also available for addressable flow monitoring.
The unique design characteristics provide monitoring convenience in any position without affecting accuracy. The housing is of durable tin-plated bronze construction with 1/4" NPT inlet and outlet ports fitted for 3/8" poly tubing.
The series 150 Flow Transducers operate with the same monitoring equipment used for pressure transducers, with no additional components required.
SPECIFICATIONS
| | |
| --- | --- |
| Maximum pressure drop | 0.3 PSIG (0.02 kg/sq cm) |
| Maximum pressure | 45 PSIG (3.16 kg/sq cm) |
| Electrical output | 100 K ohms to 3,820 K ohms |
| Ambient temperature range | -40° F to +130° F (-40° C to +54° C) |
| Operational life | In excess of 250,000 cycles |
| calibration | SCFH at 8 PSIG (0.56 kg/cm) |
| Airflow connections | 1/4" NPT female factory installed |
| Body | Tin-plated bronze |
| Weigh | 2.75 lbs (1.25kg) |
| Dimensions | 4.38" W x 3.75" H (11.1 cm x 9.5 cm) |