Home -> Products -> Monitoring and control systems -> 640-L3



Printer friendly version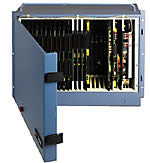 Click image
to enlarge
AN EXCITING DEPARTURE FROM CONVENTIONAL SYSTEMS
TX Technology Corp. has produced the revolutionary 640-L3 PR Monitoring System to meet the increasingly complex and demanding needs of the telecommunications industry.
This new system brings the latest in computer monitoring technology coupled with a host of standard features and the ease of use expected in today's challenging business environment.
The introduction of a new microprocessor capable of accessing large amounts of data delivers enhanced microcomputing and processing technology to pressure alarm, contact alarm and environmental monitoring. The features incorporated into the 64-L3 Monitoring System will support the ever increasing requirements of the telecommunications industry for years to come.
POWERFUL NEW USER INTERFACE AND ENHANCED FEATURES
Equipped with an enhanced and comprehensive array of fully user-programmable features and a powerful new user interface, the 640-L3 enables technicians to easily and selectively program, monitor, and control up to 1800 points within the system.
The L3 supports VT100 terminal emulation thereby permitting connection to a common PC. A new STATUS command has also been incorporated to allow the user to view full system activity detailed at a glance including:
Points presently being scanned.
Current activities of other users.
The number of existing alarms and errors on each monitoring board.
Central office main and battery backup voltages.
Like all TX monitoring and control systems, the 640-L3 is an economical, fully automatic, self-contained unit designed for surveillance of both "smart" and "dumb" transducers, contractors, on dedicated subscriber line pairs, with contact closures/binary input and remote control of contact closure device.
One or two integral 2400 baud modems as desired and 1M byte of RAM/ROM memory. Multi-user/Multitasking operation. XMODEM protocol.
Pager alarm by priority.
New extended, compact, L3, L2 and PM report formats to obtain short or detailed information.
Automatic time action remote control of contacts.
Provides transducer history and sort methods.
STATUS command gives complete system information.
Automatic and manual system DIAGNOSTIC tasks.
SLOT command allows you to assign automatic tasks, board definitions and clear or move definitions.
Trend analysis on increasing and decreasing conditions or both.
Easy to program, understand, install and maintain.
Easy upgrading from L2 to L3 and can be loaded using L2 record file.
ALARMS ON PAGER OR BEEPER
The 640-L3 enables user to obtain any alarms by priority on a pager and ensures delivery of high priority alarms.
FULL INTEGRATION WITH EARLIER SYSTEM
In keeping with TX's commitment to its customers to provide fully integrated enhancement capability, the 640-L3 is totally compatible with our earlier 640-L2 systems.
Incorporation of basic 640-L2 architecture allows 640-L3 to work with all L2 monitoring and control boards. The 640-L3 unit contains a new single PC board that replaces three boards on the earlier L2 unit: the CPU, EPR, and CM. This permits space for two additional boards yielding greater monitoring and control capabilities.
The full 640-L2 command set is preserved and can be used to control the 640-therebyrby making upgrades to the L3 quick and easy. The 640-L3 also fully supports previous format variations thereby eliminating the need for expensive and time consuming software upgrades by the user.
640-L3 EXPANSION MODULES AVAILABLE
| | |
| --- | --- |
| 640 ST | Each 50 point subscriber line module monitors up to 50 pressure and flow transducers of contactors on working and/or non-working subscriber line pairs. |
| 640 DT | Each 50 point dedicated line module monitors up to 50 transducers, flow transducers of contactors on dedicated lines only. Common return. |
| 640 MC | Each 50 pint module monitors loop resistance circuits up to 10000 ohms for up to 50 toll/trunk cables equipped with contactors. |
| 640 MA | Each module monitors up to 50 normally closed or open, wet or dry contact alarm points. |
| 640 MF | Each module monitors up to 50 gas meters equipped with type B flow transducer. (Type B flow transducer monitors standard Cubic Feet per Day (SCFD) of gas flow) |
| 640 TT | Each module monitors TTX addressable transducers for up to eight cables, 127 transceivers or 250 transducers with a maximum of 4 modules per system. |
| 640 CC | Each module provides remote control of up to 50 devices by opening or closing relay contacts. |
| 640 expansion modem module | Optional second 2400 baud modem L3 CPU. User can connect a second phone line for multi-user operation. Ideal for master host integration. |
PROGRAMMABLE FEATURES OF THE 640-L3
Using any Teleprinter or PC terminal device, the user may program of change the system configuration and control and monitor parameters such as:
Pressure and flow alarm levels for transducers.
The type of designation assigned to any transducer such as underground, aerial, buried, etc.
The device circuit ID for any monitored device(s).
The priority level assigned to any monitored device(s).
The address (location) of any monitored device(s).
The reporting terminal phone number and the priority and types of alarms assigned to those terminals.
The real time and date.
Scan times.
The reporting format.
Automatic control time actions.
Special reporting modes for nights, weekends and holidays.
Link to Specifications and Spares Kit info.